Memona Khamara
Memona Khamara
My degree project stands as a platform for discussions about the norms that control us as individuals to form partnerships, inquiring about what standards are created by society and popular culture.

We live with the realization that the happiness of life's core is romantic love and the coupling with the "right" partner. Popular culture's romantic image of the couple and the society's demanding expectations means that many images of the happiness of life develops into an illusion that is difficult to reach.

The project exists through online discussions in which the public creates new members who are anonymous characters in the fictive association "Vänskapssamfundet". It is a place for members to engage their stress, dreams or general thoughts concerning the subject.
Johan, living together with his illusion of the perfect partner, 2009
Extract from an online profile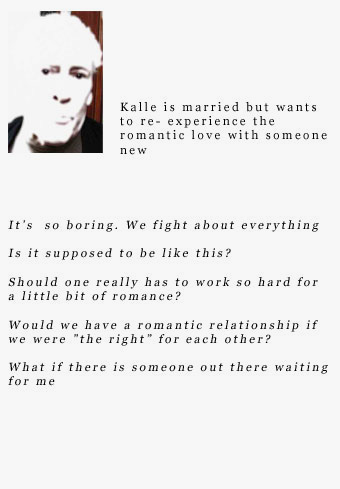 Kalle, wants to re-experience the romantic love, 2009
Extract from an online profile
Erika, having too much sex according to others, 2009
Extract from an online profile