Jessika Björhn
Jessika Björhn
Free Running /Too Fast To Leave Traces

Mermaid with floating cushions, pirate with a gun. Knight with a shield, fairy with her wand. A becoming woman tries her way of peeing in a urinal. She opens the fridge full of apples to grab a midnight snack when meeting herself on the same step halfway up a stair.

In passing presence of elevators she forces a pelargonium to take root in a heap of mud. The youngest of them all has packed her favorite toys. She is on her way.

Back to Paradise. Travelling through the photographic window to the outside world where installations deal with the question of transient and everlasting. By extending the lifetime of ephemeral phenomenon I'm taking the short cut to my own Promised Land.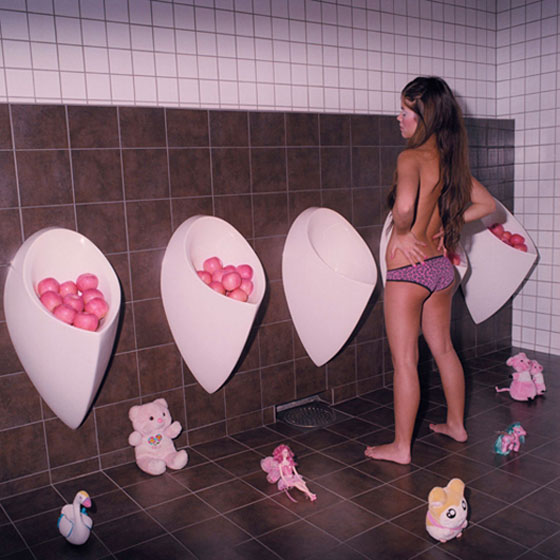 Fairyland, 2007
Photography. Lambda Print.
Year of birth 1983 Place of birth Örebro, Sweden
mail@jessikabjorhn.com
www.jessikabjorhn.com
+ 46 (0) 76 341 37 98

Planting Flowers in the Meadow of Loss, 2008
Photography. Lambda Print.
3285 g, 2008
Installation. Inflatable baby bath tub, apples.
Free Running, 2009
Sketch of installation.
Hamster and bird cages, rat traps, spray paint.
Too Fast To Leave Traces, 2009
Sketch of installation, sculpture. Glass, sand, light.