Elisabet Thostrup
Elisabet Thostrup
I am standing on a soil-trampled floor, enclosed in a patchwork of sheet metal that has been carefully insulated and clad with brilliantly colored advertising papers, when I am asked:

"Do people live in similar houses in Sweden?"

Outside the central parts of Capetown the shantytowns seem to continue indefinitely. There are many reasons why the black people live there – to start with there was apartheid…

Illegal housing made with a bit of sheet metal, some wooden beams and boxes springs up overnight. The roofs are held in place with big stones and old car tires. When it rains buckets are put out to collect the drips from gaps and holes. During the heat of summer the corrugated sheet metal sheds get unbearably hot, and in winter a biting damp creeps up close.

In my degree project I investigate how to improve the standard of sheet metal sheds with simple means and existing materials.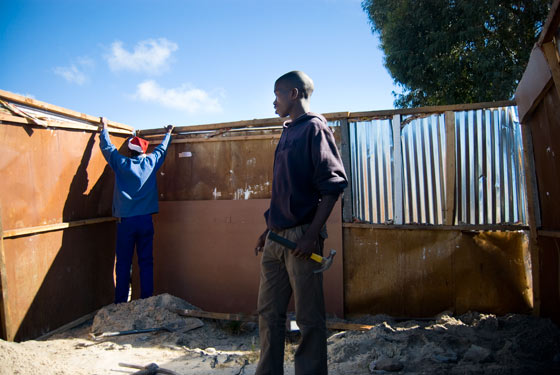 Shack under construction, 2008
Photo: Michal Bäckrud
These are the inner walls of an illegal shack in the shantytown Khayelitsha. As an answer to my question on how long it takes to build a house, the owner replied "We will tear down and rebuild this house in three hours, we're fast…"
Year of birth 1980 Place of birth Rimforsa, Sweden
+ 46 (0) 707 208 285